Once again,
,Satan sends his hand-puppet....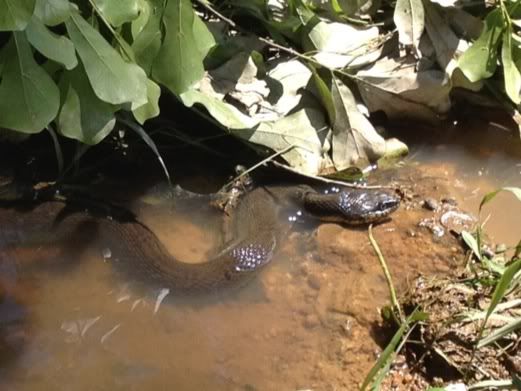 I was almost killed Saturday by
this
while looking for a golf ball.
The fact that I was one more three put from probably offing myself is besides the point.
It wasn't even my golf ball. As usual, always thinking of others...rarely thinking of myself, I was trying to help my partner locate his wayward t-shot.
Being selfless isn't easy...and it's obviously not without risk but, I won't be deterred.
I tried to post a link...to the last time one of the devil's house pets tried to kill me...but obviously, Mrs. Perpetua, I am hopeless.
http://flimsycups.blogspot.com/2010/11/biographical-information-tid-bit-1.html
EDIT

I've been waiting for Nat to chime in but...looks like he may be too chocked up. As a concession I have reprinted one of his all time classic posts. This came in response to pictures of a snake eating a frog....

Nay, not mildly; not a smidgen or a tad, but *HIGHLY* unnecessary - a deviant deviation; a violent violation; an abominable abomination!

Thank you.

That is all.

Let the matter rest here and no more be said of it as all that can be said of it has been said of it and it is now a matter forever closed. Good day to you Sir.

Forsooth man: let it be or be damned!

I SAID GOOD DAY SIR!